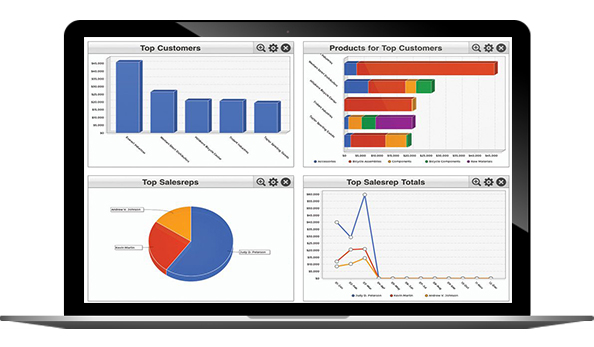 Bookkeeping software solutions enable an owner to input key information sources such as sales income, purchase expenses, cash and bank transactions. The accounting software keeps the information updated and automates the double entry bookkeeping principles by producing simple accounts payable, accounts receivable and general ledger accounts. These basic accounting software features are enough for an SME owner to understand their financial position and complete end year reports.
There are different types of software available with different features to suit a variety of businesses. The purpose of this article is to briefly describe the benefits of accounting software for small and large businesses that will help you to make an informed decision to choose the best accounting software that suits your business.
There are small, medium and enterprise level businesses. They all have very different characteristics and needs.
Small businesses:
Small businesses are characterized as an SME business that has just started out. Business owners keep great focus on capital expenditure to ensure that all investment quickly results in driving growth within the business. The objective of small business is to achieve sustainable income to stimulate growth in the business.
Medium businesses:
Medium businesses are slightly larger than small businesses that earns sustainable revenues and growth. Medium businesses usually have recruited some employees to handle business required functions. Most of the medium sized businesses want to grow their business to take it to the next level. Every business can monitor costs and expenses for better growth of business with accounting software.
Enterprise Business:
This is the largest type of SME business. Businesses of this scale are larger than medium sized business and possess more operational complexity. These businesses require proper staff for efficient human resource management. Due to the additional complexity of the businesses, there are increased requirements for support and improving efficiency in both financial and operational management.
In order to deal with additional business complexity, accounting software possesses features such as fixed assets registers, stock control, payroll and more. All of these features allow a small or large business to manage their business more effectively. This special accounting software is able to manage stock control and human resources effectively. Moreover, they are able not only to manage their financial accounts, but also to drive efficiency within the business.
There are different types of accounting software developed for each type of above mentioned businesses as it would be impossible for a software company to make a generic small business accounting software system to cater for all budgets and needs. Requirements of accounting software vary with business size. A small business would require a significantly less complex product than an enterprise level business.
Business persons can choose the perfect accounting software depending on particular requirements of the business. There are many accounting software products in the market, but they vary in features. Particular Accounting software of a company may focus more on financial forecasting while any other on modeling capabilities.
Whatever is the size of your business it is crucial to make the right decision to buy accounting software as it depends on the particular requirements of your business.
Our accounting software is built to be extremely user-friendly and intuitive, offering detailed accounts data with a few clicks of the mouse. This flexibility and ease of use gives the business owner much more control over their current financial situation. With this accounting software, you can reduce the time to complete your company accounts.
Moreover, our accounting software is suitable for small and medium sized businesses. This accounting software allows owners to get a lot of benefits without spending time and effort in keeping track of your expenses. Below are reasons to use our accounting software:
Easy to use:
Our accounting software is designed to be easy to use by non-accountants. Even a novice person can have a good grip on accounting software within minutes.
Affordable cost:
The cost of our accounting software is affordable. There are no hidden charges of installing accounting software. Customers can enjoy the great benefits of accounting software at affordable costs.
Easy to use interface:
The accounting software we provide has easy to use interface. With a Million's accounting dashboard you can see everything you need to know about your business.
Organized knowledge:
The information you get from reliable accounting software is organized. You can get the required information immediately.
Increase productivity:
The advanced accounting software can produce a quicker and more efficient result with less input. With accurate and up to date business information, you can boost productivity, expand into new markets and increase profits.
Accounting software is available with varied features. Every business should choose the right software to ensure that you are getting exactly what you need from your accounting software. It can be a challenging task to choose the suitable software as all businesses' needs vary from each other and therefore, they need particular accounting software that suits their business needs. Use of accounting software makes your accounting process simple. After complete analysis of your business requirements, you will be able to decide the most suitable accounting software for your business.
There are many companies that provide accounting software for businesses. Accounting software allows businesses to maintain transactions and make decisions based on the data generated by those transactions. It is very important to purchase business software solutions from reliable companies to get desired benefits.
We also provide software solutions for small and medium sized businesses. Some of our business software solutions include invoice software, accounting software, stock control system and more. Business software adds efficiency to the business and improves business productivity. In fact, the right way to get software is by getting recommendations from companies that are already using accounting software and have positive reviews. If you are looking for quality software solutions, contact us today.