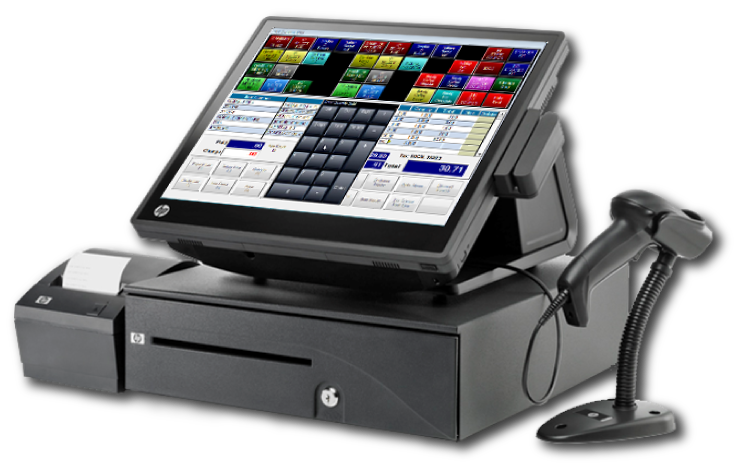 As a business owner, the goal of any business is to increase its net profit. The ways to achieve this goal is either by reducing operating costs or by increasing sales. Point of sales system performs both functions. It reduces operating costs and increase net income by increasing sales.
Having too much or too little stock is costly that becomes a big cause of loss and some small business may face losses or even shut down due to this big mistake. Irrespective of the size of your business, point of sales system helps to run the business smoothly.
The biggest advantage of using POS business software is the ability to get immediate and accurate assessment of your inventory in seconds. Each time you check out a customer, the goods that are sold out are immediately subtracted from the inventory list. With point of sale business software, retailers can track and maintain inventory and saves time by having a clear picture of current and sold inventory items.
Inventory control business software keeps track of thousands of items that give competitive advantage to retailers. Good inventory control business software allows you to set an alert for the items at the re-order point. Moreover, you also get knowledge about the recent price you paid and the average price you paid in past to make a best deal with your supplier.
In addition to tracking inventory, a good POS system let you know your best customers and their preferences. In this way, retailers maintain those products to make them their regular customers. With the help of right POS software and hardware devices, retailers get great advantage in the form of business growth and efficiency that keep their customers coming back.
Before you take steps to purchase point of sales system, consider POS software and hardware needs together for your retail business as particular software requires hardware of the best compatibility. Below are some standard POS hardware components for POS software:
All-In-One Workstations:
Workstations fulfill all of your "Cash Register" needs. They provide expandability and flexibility with an easy to use setup that becomes complete with other peripherals devices. Small retail shopkeepers often use this point of sale system.
Servers and Power Sources:
Servers are mandatory to run business software. It gives access to tools and features to make your software usage both convenient and efficient.
Choose a hard drive with on-board RAID support to secure day-to-day backups and disaster recovery.  Keep a backup of your files to keep your business information secure. Make sure that each POS terminal has dedicated power and battery-backup.
Barcode Scanners:
Scanners help in accurate information regarding inventory in a quick way. Moreover, they reduce errors during checkout and maximize business efficiency.
There are various types of scanners that you can choose depending on the type of business. Short range scanners scan items in front of the cashier. Long range scanners can scan from a long distance while embedded scanners are used to scan at checkout counters.
Cash Drawer:
Cash drawer is an important hardware device of point of sale system that protect currency, credit card receipts and checks that are used in exchange of goods in daily transactions. It is better to use software with automatic close feature of cash drawer for theft prevention. It prevents staff from leaving a cash drawer open longer than necessary.
Check Readers (MICRs):
Check Readers scan check numbers and bank accounts to verify account information to prevent non-payment. MICR Readers are connected through keyboard. Make sure your Point of sale software supports it.
Magnetic Stripe Readers and PIN Pads:
MSRs read different types of cards used for transactions such as credit cards, debit cards, employee ID cards etc. A PIN Pad is essential for debit card processing.
Signature Capture Devices:
These devices capture the customer's signature for verification to process payments and transactions through credit cards.
Receipt Printers:
Receipt printers print customer receipts, bill, purchase orders, and any other business certificate. Choose easy to use printer to save valuable time during checkout.
Touch Screens or Keyboard:
Touch screens or keyboard are two choices to operate Point of sale system. Touch screens are more popular option that takes less space. It is extremely user-friendly. You can also choose a compact keyboard with built-in touchpad feature to use it even in less space.
Portable Data Terminals:
Portable Data Terminals are bar code scanners that collect information and imports into your retail business software to increase speed and efficiency and help in quick counting of merchandise during receiving of inventory.
Shopping for the Right POS System:
Various choices are available with different prices and features that make decisions difficult in purchasing the right POS business software. All inventory control business software track inventory but a good POS system let you assess your inventory easily and thoroughly. It also allows you to add new items, set alerts for items running low, and generate purchase orders.
Choose an easy to use business software to control inventory as complex system takes time to process and new employees require training before using it that takes a lot of time and complexity can lead to errors.
Choose a system that suits your needs according to your business size. If you are a small business owner with a tight budget, you can begin with a basic setup that is POS software running in a PC with a drawer and a receipt printer. When your business grows, you can add POS hardware according to your business needs such as bar code scanner, credit card reader, inventory tag printer, pole display, or PIN debit pad.
We are a famous business software solution provider in Malaysia for small and medium sized business. Our software solutions include payroll software, business software, POS system, GST accounting software, and a lot more.  If you are looking for quality business software solutions, Contact us today.