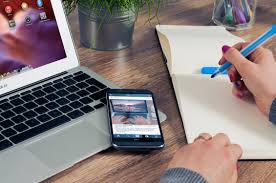 If you can time travel to the past when invoicing software was not available, you would witness how difficult it was for business owners to do everything manually and it would exhaust you to even think about it. Inventory items were manually added to each invoice copy and then pricing was calculated, taxes were added, and the total amount was entered. Each copy was stamped and sealed then mailed to the customer. The customer will receive the invoice in some days, write the cheques in the name of your company and mail it back to you. You will receive the cheques and take them to the bank so they can be cashed. So a tiring and frustrating process that will definitely take weeks and slow down the cash flow.
Even today, when you can e-mail your invoice to the client and get a prompt response, manually invoicing is difficult. It is a lot of paperwork, connecting dots, and collecting numbers and data. Roughly a single invoice can take 10 to 20 minutes out of your time and if you have to do dozens of invoices in a day manually you would feel like you are working on a research project!
Why accounting and invoicing is complicated?
Invoicing alone is not the only issue here if you are running a small business. Have you ever misplaced any invoice and spent hours looking for it? Do you feel the decisions like ordering different inventory items difficult and unsettling? Is keeping up with the stock and sales draining all your mental energy? Even if you own a small business and your inventory is not huge and complicated, keeping track of things manually can still be time taking and complicated. No matter how small your business is you still have clients to please and deadlines to meet. At the same time, you also have to keep up with cash flow and inventory, payments to clear, and send out reminders. You can even choose to start a bookkeeping business from home, using the software.
All of this can get very overwhelming if you are doing it manually. But why are you doing it manually when you have software available for you that can wrap the tasks in minutes for you which would otherwise take hours? Take minor calculations and trivial hassles out of your way and give a better part of your time to more important tasks. Equip your business with the best accounting and invoicing software.
Why Invoice Software is the right choice?
Invoice Software is a cost-effective solution to the accounting and invoicing problems of small-sized businesses. With this modern tool, you can create and send invoices and receive payments on the same day. Keep track of your cash flow and monitor your purchases, expenses, budgets, and sales.  Enjoy maximum features and advance assistance at a minimum cost.
Conveniently track the company's expenses and generate invoices. Keep your investment safe by staying sharp on numbers and monitoring your expense. Cut and budget as you see befitting. Generate invoices for your customers in a more efficient way.
Freedom to customize invoices with your own desired logo, layout, and color scheme. Now present yourself as a brand in front of your customers by simply designing a very professional but personalized-looking invoice.
Better management and teamwork by allowing multiple users to access or update data.
Each person responsible for the task can now directly access their separate user account to keep track of their own progress. You are no more forced to give your employees access to your confidential purchase price lists just because they are responsible for updating the sales.
It can handle multiple currencies assisting you in international trade.
Now you can deal with your foreign clients without constantly going back and forth to manually converting the currencies into your currency.
Easy Item/Service Grouping for smart work rather than hard work.
You can now sort your inventory for convenient and efficient management. No more forgetful mistakes and missing out items when checking on the stock.
Sales and inventory reports at your disposal all the time.
Now you do not need to throw yourself in paperwork for hours to do an audit of your company. Plan your next move with all the company accounts information sorted in front of you.
Your reports are always

Streamlined Sales Tax

(SST) Ready
No more stressing over adding taxes to the values manually for making perfect reports.
Manage billing and reports with a user-friendly simple interface that allows easy navigation for users with no technical knowledge of operating accounting software. Even if you are not an expert computer operator you can still easily navigate through invoicing software.
It can assist you in multiple company transactions.
No more messing things up just because there is too much to handle. Be productive and smart about your work.
Stay ahead of your competitors with real-time integration with accounting. Track where your money is coming from and where it is going.
It will keep a record of advance payments and postdated cheques for you.
Email Invoices to your clients with just one click
With a single click send reports to excel. If you are someone who prefers to have all your finances sorted on excel sheets available on your desktop or cell phone this is convenient for you.
Saves historical records so you never miss a thing. Conveniently go back to the history and see older invoices, cash flow, and edits in reports.
Invoicing Software is compatible with Microsoft Windows XP or later window versions and requires Pentium 4 or higher with a 1GH processor speed. With great customer service, it is the best choice for all your accounting needs.