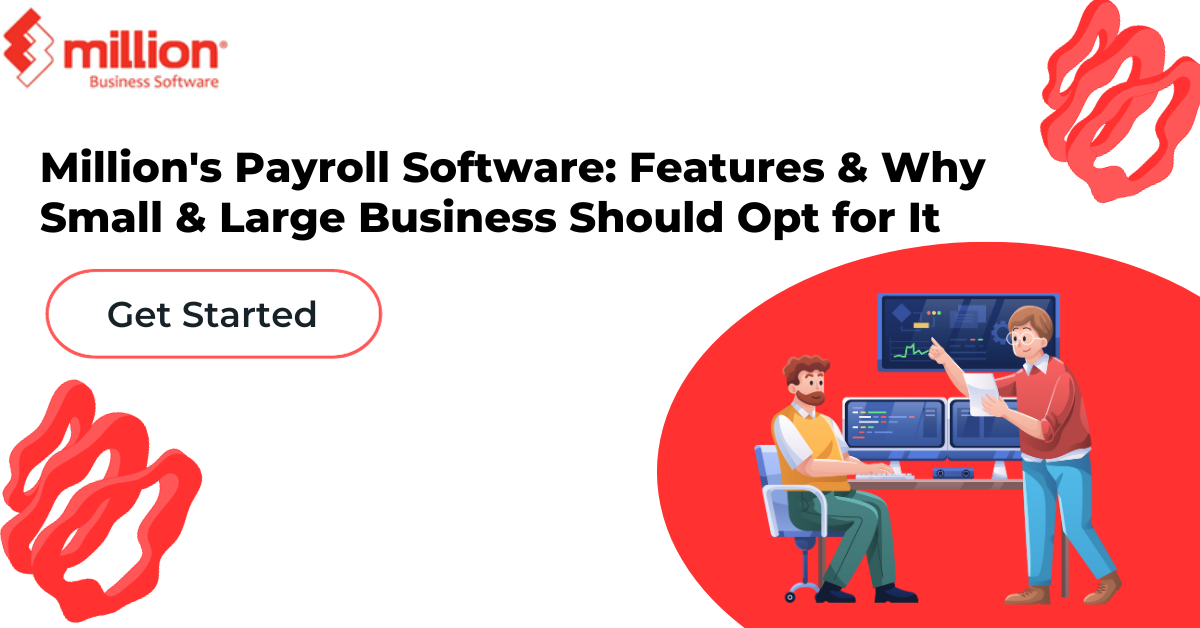 Introduction:
In the dynamic landscape of business operations, efficient payroll management is a cornerstone for success. For businesses seeking a comprehensive solution that seamlessly integrates security, user-friendliness, and compliance, Million's Payroll Software emerges as a game-changer. This article explores the distinctive qualities of Million's Payroll Software and why both small and large businesses should consider it as their go-to payroll management solution.
Secure Employee Records: Fortifying Confidential Information
One of the standout features of Million's Payroll Software is its robust security measures to safeguard sensitive employee data. The software provides a secure repository for comprehensive employee records, including leaves, absences, holidays, job history, and salary details. This level of security ensures that confidential information is protected, fostering trust between employees and the organization.
User-Friendly Data Entry: Simplifying Complexity
Navigating through payroll processes can be daunting, especially for those new to payroll software. Million's Payroll Software addresses this challenge with its user-friendly data entry interface. The system is designed to be intuitive, making it accessible even for first-time users of payroll software. The simplicity of data entry ensures a smooth onboarding process for businesses transitioning to digital payroll management.
Pay slip: Precision in Auto Calculations
The software's automated calculation capabilities set Million apart in the payroll management arena. From basic salary calculations to intricate elements like EPF, Socso, PCB, allowances, and deductions, Million's Payroll Software ensures accuracy and efficiency. The auto-calculation feature not only saves time but also minimizes the risk of errors, providing businesses with reliable pay slip generation.
Auto Pay System (APS): Seamless Banking Integration
Million's Payroll Software integrates with major banks, including MBB, PBB, CIMB, RHB, HLB, and more through its Auto Pay System (APS). This feature streamlines salary disbursement, making the payroll process more efficient and reducing the likelihood of errors associated with manual transactions.
Income Tax: Automated Compliance with Tax Regulations
Navigating income tax compliance can be a complex task, but Million's Payroll Software simplifies the process. The software automatically generates essential tax forms, including CP 39A, CP 21-Leaver, CP 25A, CP 8A/ EA Form, TP 3, and PCB 2 etc. offering businesses the option for online submission. This ensures that businesses stay in compliance with the latest local legislation changes, relieving them of the burden of manual tax-related tasks.
Export to Excel: Analytical Flexibility
To empower businesses with further analysis capabilities, Million's Payroll Software allows for easy export of payroll data and reports to Excel. This integration facilitates in-depth analysis and reporting, offering businesses actionable insights into their payroll processes. The seamless export feature enhances the software's compatibility with Million Accounting and Million HRM for comprehensive business management.
Multi-User & Company Transactions: Scalability and Collaboration
Million's Payroll Software is designed to accommodate the needs of diverse businesses. It allows for the creation of different companies, each with its own payroll runs. The software supports multiple users, enabling various payroll personnel to work on different processes simultaneously. Assigning specific rights to different users enhances collaboration and ensures a streamlined workflow.
Compliance: Staying Ahead of Legislative Changes
Adhering to the latest local legislation changes, including those imposed by HRDF, is crucial for businesses. Million's Payroll Software keeps businesses up-to-date with compliance requirements, ensuring that payroll processes align with the evolving legal landscape.
Conclusion: Million's Payroll Software – A Holistic Payroll Management Solution
In conclusion, Million's Payroll Software emerges as a holistic solution for businesses seeking seamless payroll management. From securing employee records to simplifying data entry, ensuring compliance with tax regulations, and fostering collaboration through multi-user capabilities, Million's Payroll Software caters to the diverse needs of both small and large businesses. With its emphasis on security, user-friendliness, and compliance, Million's Payroll Software stands as a reliable ally in navigating the complexities of payroll management in the modern business landscape.