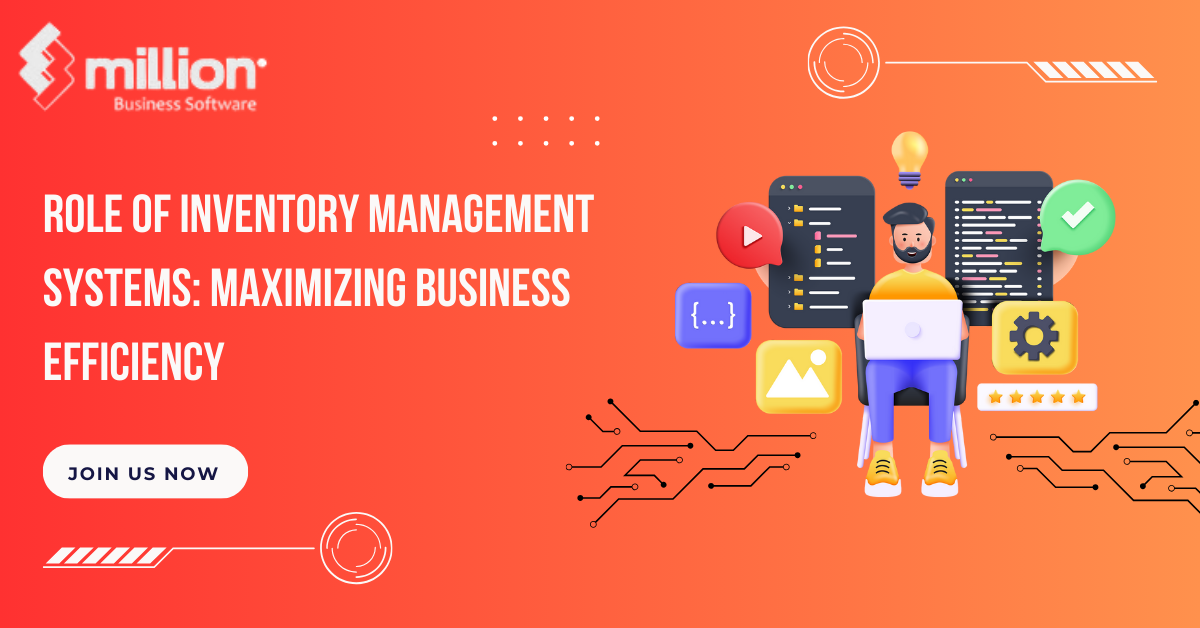 In today's fast-paced business landscape, effective inventory management is a cornerstone of success. An efficient Inventory Management System (IMS) not only streamlines operations but also plays a pivotal role in boosting overall business productivity. In this article, we'll explore the significant impact of IMS on productivity and shed light on why Million's IMS stands out as the best choice in Malaysia.
The Power of Efficient Inventory Management:
Optimized Operations:
Efficient IMS ensures that businesses maintain optimal stock levels, preventing overstocking or understocking of products. This balance is crucial in avoiding unnecessary holding costs and stock outs, ultimately leading to smoother operations.
Time and Cost Savings:
Automation within Inventory Management System reduces the manual workload associated with tracking inventory. This translates to saved time for employees, allowing them to focus on more strategic tasks that contribute directly to business growth. Moreover, cost savings are realized by minimizing errors and preventing stock wastage.
Enhanced Customer Satisfaction:
An IMS enables businesses to fulfill customer orders accurately and promptly. With real-time insights into stock availability, businesses can prevent backorders and delays, leading to increased customer satisfaction and loyalty.
Data-Driven Decision Making:
The data generated by an Inventory Management System provides valuable insights into product demand, supplier performance, and overall inventory health. This information empowers businesses to make informed decisions, adapt quickly to market changes, and stay ahead of the competition
Why Million's Inventory Management System Excels in Malaysia:
User-Friendly Interface:
Million's Inventory Management System boasts an intuitive and user-friendly interface, making it easy for businesses of all sizes to adopt and implement. The system is designed with the end-user in mind, minimizing the learning curve and maximizing efficiency from day one.
Real-Time Tracking and Reporting:
One of the standout features of Million's Inventory Management System is its ability to provide real-time tracking and reporting. This ensures that businesses have up-to-the-minute visibility into their inventory, enabling them to make agile decisions based on the latest data.
Scalability for Growth:
As businesses evolve and expand, so do their inventory management needs. Million's IMS is designed to scale seamlessly, accommodating the growth of businesses without compromising on performance. This scalability ensures that the IMS remains an asset as businesses reach new heights.
Frequently Asked Questions
What is the primary purpose of an Inventory Management System (IMS)?
The primary purpose of an Inventory Management System (IMS) is to efficiently track and manage a company's inventory. It helps organizations optimize stock levels, reduce holding costs, prevent stock outs, and streamline overall operational processes. The IMS provides real-time visibility into inventory data, enabling businesses to make informed decisions, enhance customer satisfaction, and ultimately increase productivity.
Can an Inventory Management System (IMS) benefit small businesses as well?
Absolutely. An Inventory Management System is not exclusive to large enterprises; it is equally beneficial for small businesses. In fact, for smaller operations, the impact can be even more significant. IMS helps small businesses avoid overstocking, reduce manual workload, and enhance customer satisfaction. Additionally, with scalable solutions like Million's IMS, businesses of all sizes can leverage the system's capabilities and grow seamlessly without compromising efficiency.
Conclusion:
In conclusion, a robust Inventory Management System is not just a tool; it's a strategic asset that can significantly contribute to increased business productivity. Million's IMS, with its user-friendly design, industry-specific customization, real-time capabilities, and scalability, emerges as the top choice for businesses looking to optimize their inventory management processes in Malaysia. Embrace the power of efficient inventory management and watch your business thrive.