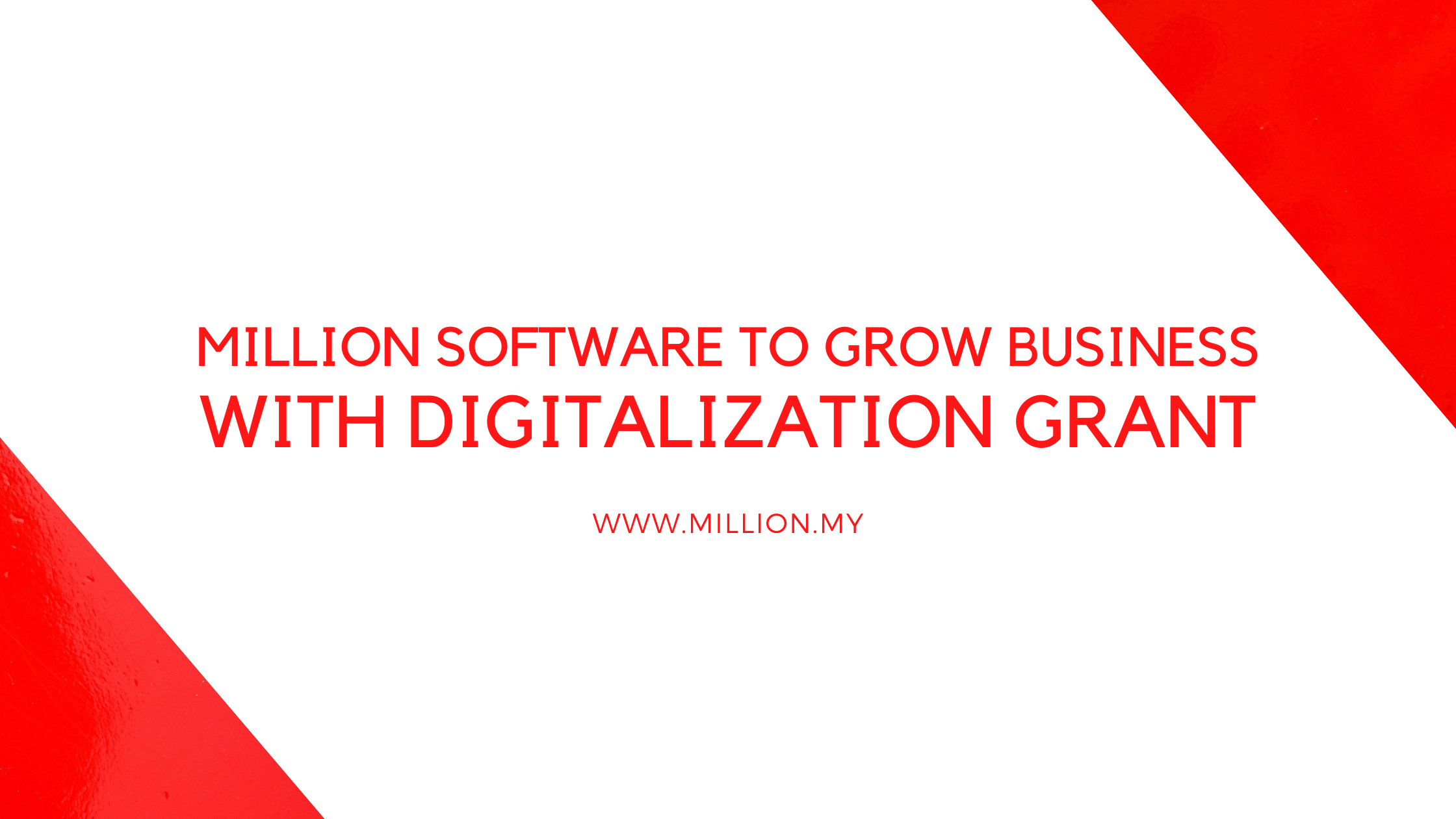 The government of Malaysia is offering small business SME Digitalization Grant to help them modernize their business by equipping them with digital tools such as business software and online business platforms. The Grant will enable the business owners to avail the of digital products and services by paying only half the price. This means that now SMEs can have complete access to Million accounting and invoicing software, by only paying the 50% of the actual cost.
Recent developments have completely altered the landscape of business and marketing. More and more businesses are shifting to the online world and many companies are now operational with employees working remotely. Remote work and online business are working in the best interest of everyone, except it has become harder to keep a tab on everyone. This trend is revitalizing the struggling to survive economies, and those who failed to join this movement will fall behind.
However, more investment is required to digitalize the previously manual systems, and many small businesses might not have the cash flow to support the digitalization. This is why the Malaysian Government has decided to step up and help small businesses by offering a grant. 
What is SME Digitalization Grant?
SME Digitalization Grant is aimed to aid in boosting the shift towards digital tools such as software and online marketing platforms. This move is intended to support the overall economic growth as the Malaysian Government has planned to assist 100,000 SMEs with this grant. 
This grant can be availed for more than one purchase as long as the total subside amount is in the bracket of the maximum allotted amount. The grant can be availed for Digital Marketing, HR Payroll systems / CRM, ERP / Accounting & Tax, E-POS, and Procurement. These digital tools will help boost your business growth and the economy of the country. Read more about the merits and procedures to claim the grant here.
Million Software to Boost Digital Growth
Our company has earned a reliable repute in the market over the years and has become a preferred choice of companies both large scale and small scale. In recognition of our quality services government has approved us as the authorized vendor for the SME Digitalization grant. Million Software is an authorized vendor that is legally listed by the government as a service provider approved for the SME grant. Our digital products and services are known to help in business growth.
Million Accounting Software
The biggest accounting problems small businesses face include managing cash flow, timely invoicing, payroll problems, and complicated annual audit and taxation. These problems can easily be avoided by benefiting from Million accounting and invoicing software.
Avoid bad cash flow with reports generated by our system that can be useful in auditing and better decision making. 

Keep track of your money for stop-loss with clients who have huge bad debts. 

Send out invoices immediately for speedy payment recovery. 

Keep track of payables and avoid penalties. 
Million HRM and Payroll Software
Our HRM system will help your HR team perform more efficiently, and reduce the workload. You will need fewer people in your HR team, practically reducing the payroll. Similarly million payroll software will assist regulatory compliance, and managing employee benefits, and loans. 
Choose us to be your partners in success and we will be laying a digital path for your journey to the heights. Leverage technology and the grant by the government by choosing us. Choose us, choose success, choose you.
Contact us now!