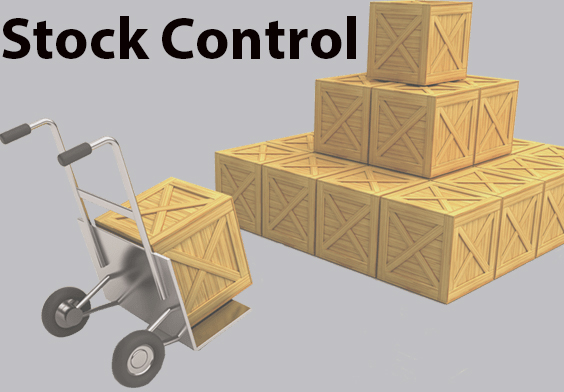 A good stock control system is vital for all businesses as it eliminates a lot of financial strain on the business. More or less than required stock levels can leads to financial loss.  Overstock puts unnecessary strains on your business cash-flow and lack of cash flow leads even the most profitable business towards failure.
Managing your stock control identifies any discrepancies in your business and highlights items that are not selling as well as those that are selling quickly. Stock control system gives a record of the purchased price of an item.
In order to keep customers happy, business owners should have all the required products in stock so they can be quickly dispatched when the demand occurs. On the other hand, they need to be careful not to overextend themselves in buying too much stock as it can lead to cash flow problems.
Stock control software calculates your stock levels and eliminates the need to manually find and count your stock. This information is updated when stock is purchased or goes out of your store when it is sold, as a result, you always get a clear picture of how much stock you have in hand.
Stock control software makes your products organized in a much simpler way. Moreover, it gives real time reporting on your stock. The stock control system gives an instant report of available products. This allows dealing with customers quickly and easily responds to enquiries about their orders. It makes your company look both professional and trustworthy.
In the fast moving business world of today, there are many issues and orders regarding stock that are dealt with using stock control software. As your company grows, stock control system can cope with a much higher demand. It allows you to expand easily to access real time information about your products.
It has become quite important to keep track of every stock item. Stock control system helps the small business owner to run complex stock control easily without hiring more employees.
Every hospitality business also requires regular stock control in the kitchen for successfully running a business. If stock levels are more, valuable business capital will be tie up and if the stock levels fall short than required, businesses can face unnecessary losses.
Stock control in the kitchen of a hospitality business is very important that can be successfully achieved using stock control system. It is a matter of organizing, planning, and implementation.
Stock control system provides key goal for effective stock management. It gives access to your current stock levels and sales history of previous months and current sales orders.
The focus and objective of the inventory management control is to maintain an optimum level of the inventory as it is one of the main factors that determine how well businesses work and make profits. Halting the cash flow with excess stock or keeping fewer inventories that is not enough for meeting the needs of valued customers are two consequences of business failure that many entrepreneurs do not understand.
Use of Stock control system makes a business well planned and structured that raises productivity, maintain stock levels and receive positive feedback of customers. In addition, Inventory control system allows managers to keep daily records of the inventory, total items, sales, deposits, and withdrawals. It also ensures that there are no mistakes in orders and receipts. Inventory management is a common problem for many retailers that can severely impact profitability. For this reason, stock control software has become a must for any retailer that wants to grow their business and ensure higher store profitability.
Nowadays, retailers can enjoy the benefits of amazing features of stock control system, which optimise stock levels and ensure the right products are being ordered at the right time. Thus, one no longer needs to spend much time on retail administration. Staff can focus on other profitable tasks to improve sales and better customer experience.
Stock control software updates a database in real-time, as a result, a retailer is aware of exactly what they have available at a particular time. It also generates reports to ensure optimal inventory levels. With the help of available data, the software makes ordering recommendations and ensures that each store has adequate levels of the products in demand at the right times.
Stock control system makes you able to manage inventory by keeping appropriate levels of slow moving and high demand products to ensure a better turnover. With stock control software, you will be able to improve efficiency and increase profitability. It ensures that your store have optimal levels of stock, right products type at the right time.
With stock control software, analysis can be conducted with a few mouse clicks from a single computer to know exactly what they need to order that is time saving and maximize profitability.
For any business, stock control is important from both ends of the spectrum. There is a lot of software for stock control to ensure business success; however, it is important to choose the right software for your business. Some software are developed for small business while some for medium or large business. Every business requires choosing any of them according to their business needs and size.
A lot of companies are providing software solutions for small and medium sized businesses. Choosing a reputable software solution provider can help in finding the suitable software for your company. Getting recommendations or checking reviews of customers are effective ways of finding a reliable company.
We provide software for small and medium sized businesses. A wide variety of software solutions are available from us. Many companies are using our software solutions that include POS system, stock control system, business software, invoice software, accounting software etc and are getting benefits of their amazing features. Choose us today for reliable and quality products.