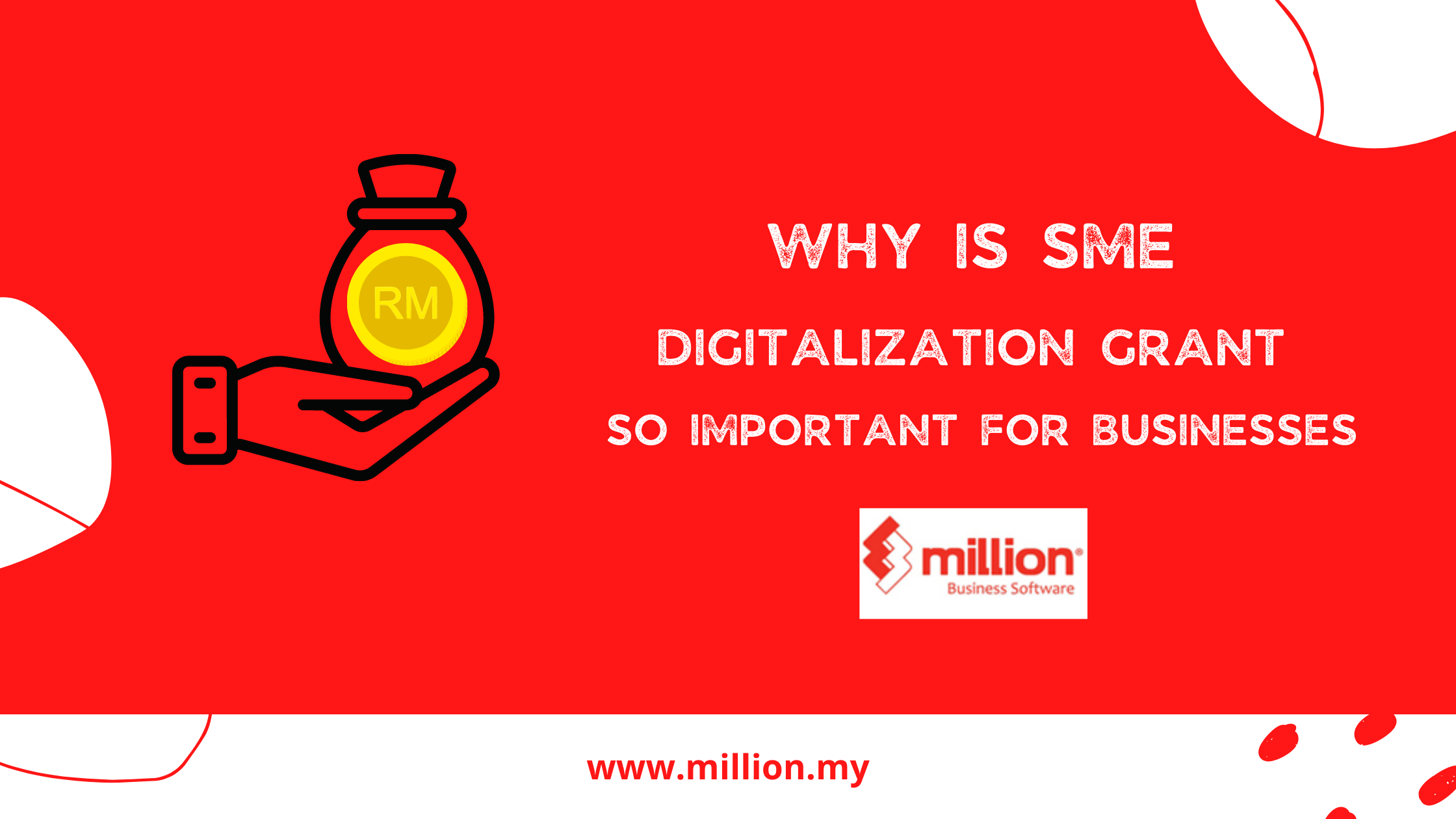 SME Digitalization grant has been announced to help small businesses or SMEs that support the economy. This grant is intended to help these small-scale businesses to digitalize and enjoy fair competition with businesses operating on a larger scale with larger budgets. It is to encourage Malaysia's businessmen to move towards digitalization. The government wants to create better infrastructures for even small businesses by offering them opportunities for digitalization transformation This is to help businesses with limited means to grow with digital tools.
Small businesses start with small investments and they work hard to maintain a healthy cash flow. In most cases, the most profitable small businesses find it difficult to upscale or step up any one of their business operations.  However, this is the era of digitalization. Businesses need to leverage digital tools for business growth in the current market.
Small businesses are essentially competing with larger-scale businesses to claim their share of the market. Big multimillion-dollar businesses have huge budgets for each business operation, including accounting, sales, and marketing. This is why larger businesses were the first to jump up on digitalization opportunities and maximize the potential of their businesses.
Benefits of Digitalization for small businesses
Digitalization is creating a system for converting information from the conventional form of words into a digital (computerized) format that is represented as bits or bytes. Digitalization of a small business contributes towards enhancing the efficiency of its process, consistency, and quality. It can:
Modernizes business by Integrating conventional records or files into a digitalized format

Prevent human error and reduce operational cost

Improve and facilitate a better informational exchange

Minimizes communications chain and eliminates redundancies 

Help in providing customer service around the globe

Benefit from analytics & real user data

Boosts the continuity of business growth
Digital transformation optimizes each level of an organization but for a great number of businesses, the lead motivator is cost-effectivity. They can move data to a public, private, or hybrid cloud environment with less operational costs. It reduces hardware and software costs while giving team members extra time to work on other projects.
By leveraging workflow automation and advanced processing with the help of artificial intelligence (AI) and machine learning (ML), SMEs can now track the customer journey seamlessly and more efficiently. It allows to pull data across all the different areas to work together more effectively and create a better customer experience leading to better business. 
Better resource management and higher productivity
As every department leverages sensitive data digital transformation encompasses every area of a business from sales and marketing to finance and the C Suite and can lead to process innovation and efficiency across units. While equipping teams with easy-to-use tools to get their jobs done, it is also crucial to ensure that the data is optimized and secure everywhere it flows. 
Having the right tech tools that work together can streamline workflow and improve productivity. Team members feel empowered and work more efficiently when several manual tasks are automated and data is integrated throughout the organization. 
Encourages digital culture that is more agile
For businesses to remain sustainable in the current times, this digital culture shift is now crucial. It ensures the upskilling and digital learning of team members to leverage the benefits of digital transformation. Taking advantage of the advancements in the world of software development, businesses can increase their agility with digital transformation. 
By providing team members with the right tools, tailored to their environment, a digital culture leads to a pathway to improvement with faster innovation and adaptation and improve speed-to-market, and adopts Continuous Improvement (CI) strategies. These tools not only offer a more seamless for different departments' way to operate and collaborate, but they also lead the entire company ahead digitally. 
Enhanced data collection and Accurate customer insights
Now, most businesses are gathering giant heaps of customer data from cookies and social media tools. However, the real money lies in business intelligence at a higher level by optimizing this raw data for analysis, separating significant numbers from needless information. 
Data can be the key to unlocking customer insights to understand things better and drive the business forward. Digital transformation creates a system for gathering the right data and translating this data into insights across various touchpoints. You can create a business strategy that is even more customer-centric by using both structured data (personal customer information) and unstructured data, such as social media metrics, you can better understand your customer and their needs.
These insights enable strategies to provide more relevant, personalized, and agile content that can help drive business growth.
An enhanced customer experience
Now consumers have high expectations for digital experiences as they are used to endless options, discounts, and quick delivery. Your digital transformation will not only deliver efficiencies for your teams but will also offer more seamless, intuitive experiences for your customers. This spans from sending and receiving invoices, via email communications, digital products, and even the cadence by which you reach out to new prospects.  
As Customer experience (CX) has emerged as the key driver of sustainable business growth it is the new battleground for brands. One way to make your brand stand out to customers is to ensure them that you value their privacy. Empower the customer with the autonomy to make decisions around their data and offer them control of how their data is collected and used.
Increased profits
In the business world, digital solutions offer a creative competitive edge to promote consistency, enhance quality, and reinvent profitable methods. Hence, more and more businesses are now  adopting digitalization of business for better profitability as it:
Saves cost

Increases efficiency

Lack human error

Safer data storage in the cloud

Reduces operational costs

Enables data to be analyzed
Benefits of SME Digitalization Grant
Now it is clear that digitalization is very important for small businesses to thrive. As the government has announced the SME digitalization grant to help small businesses get access to digital tools like software and digital services. The Malaysian government is offering to pay 50% of the cost of digitalization which could be up to RM 5000! Now, most small business owners will be interested in knowing how they can this grant money. Read this article to learn how you can claim your SME Digitalization grant. Of course, the government has introduced some rules and restrictions to ensure no frauds are conducted and only legitimate business owners are benefiting from the grant. Please read more about SME Digitalization Grant here.