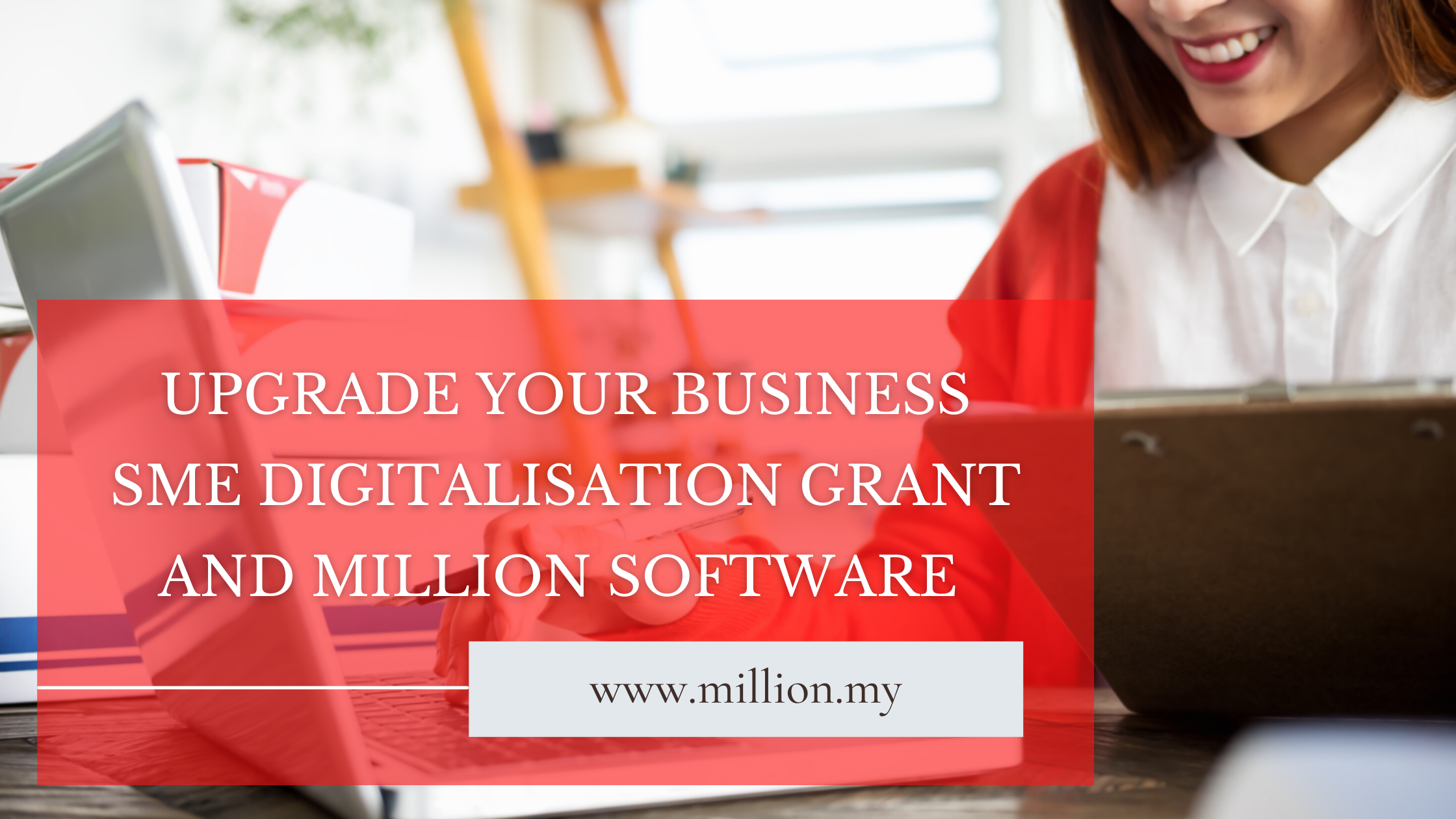 Do you see growing business opportunities but afraid you might be leaving money on the table due to a limited budget? Worry no more, now you can avail the best accounting software and payroll software by Million Software with SME Digitalisation Grant.
What is SME Digitalisation Grant?
To encourage the private sector to join the ranks of digital Malaysia, the 2020 Budget announced that over the next 5 years Malysian government will offer a 50% matching grant of RM500 million. This means that in this period a total of 100,000 SMEs can avail of a grant of a maximum of RM5,000 to purchase digitalisation services, including accounting software and electronic payroll systems to improve the company's operating systems.
Now if your business wants to invest in Million Accounting Software or Point of Sales Software, through this grant, you only need to pay half the price to own a set of powerful accounting/payroll software. 
You can utilize this grant in the following 5 areas:
Digital Marketing

HR Payroll System / CRM

ERP / Accounting & Tax

E-POS

Procurement
Who is eligible for the SME Digitalisation Grant?
For a company to be eligible for this grant it must meet the following criteria:
Malaysian nationals must be at least 60% shareholders in the SME

The company must be legally registered in Malaysia as an SME 

The company should be operational for a minimum of at least one (1) year. and a minimum annual sales turnover of RM100,000.00 for the first year;

For a company that has been operational for two (2) years or more, the minimum annual sales turnover must be RM50,000.00 for the preceding two (2) consecutive years.
How to apply for SME Digitalisation Grant?
You can apply for this grant by following the below-given steps
The SME must contact and appoint one or more panels of Service Providers to perform any of the digitalisation services available (maximum of 3 panels).

The SME must complete and submit the application form together with the following required supporting documents to any Bank Simpanan Nasional (BSN) or SME Bank branch:

Completed SME Digitalisation Grant Malaysia Initiative Application Form.

Copy of Identity Card or Passport of Director (s) / Partner (s) / Proprietor(s), whichever is applicable.

Copy of business registration licenses (CCM, Form A/B, Form 24 & 49, and M&A or any similar forms under the Companies Act 2016).

Audited financial statements for the last financial year and the latest management account. (if any) or evidence of sales turnover (if any).

Company's bank statement for the previous two (2) months.

Company's profile (if any).

Invoice/billing and service agreement from the authorized vendor listed by MDEC.

Any other information and documents as and when required by the bank.

After the approval of SME's application, the SME is required to pay the remaining payable amount of the total invoice after deducting the subsidized amount granted from the Initiative. 

SME is also responsible for submitting proof of payment to any of the bank's branches. After that, the Bank will make a direct 50% payment of the total invoice amount or up to RM 5,000.00 to the Service Provider in either one lump sum payment or in installments based on the Bank's discretion.
Million Software for Business Digitalisation
Million software is the answer to your prayers with the top business software at market-compatible prices. Enjoy high-end software features, great customer service, and the best value for your money. We are a reputable name in the accounting field, with years of experience. With simple navigation displays, cloud-based efficient operations, high-end features, and accurate and elegant report generation our software are designed for accounting firms, professional accountants, and freelance bookkeepers. If you have any queries feel free to approach us.