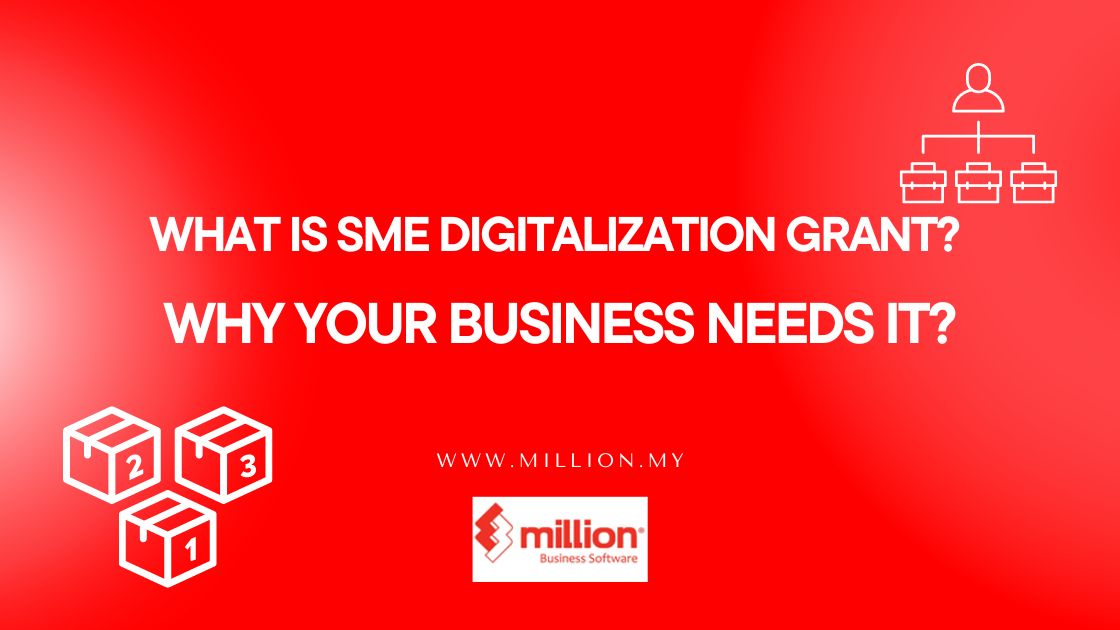 SME Digitalization grant is an initiative started by the Malaysian government in 2021 to support the rapid growth of Small to Medium Size Enterprises also called SMEs. The Malaysian government will pay 50% of any digitalization product or service an SME wants to invest in. The maximum limit of the grant is up to RM5,000! This is a very generous offer from the Malaysian Government.
Why Digitalization is Essential Now?
Businesses have suffered greatly from COVID-19 and the economical recession worldwide. Around the globe, all the governments are trying to keep the economy going by encouraging people to keep their businesses running. Closing small to medium size businesses on a mass level can drastically increase unemployment and related problems in any country. 
Most businesses that survived the economic recession followed by Covid-19 and the lockdown were the ones that operated with the help of digital products and services. Digitally empowered businesses were able to get customers and deliver services working remotely from homes. Digital tools enabled business owners and their employees to perform business operations from home, in hotels,  in isolation centers, even in hospitals, so virtually anywhere. 
Here is a glimpse of what changed for businesses that were digitally empowered:
The sales team was promoting businesses online and zero-contact deliveries of products and services were enabled by online transactions.

A laptop and

cloud-based software help accountants

keep their company's books in order while working from home.

HRs were able to track, record, and access the working hours and performance of employees from different teams working remotely.

Managers were able to have 1:1 meetings and group sessions online.

Teams were able to keep track of problems and progress in projects using online project boards

Working remotely allowed HRs of businesses to access potential talent worldwide and hire more suitable candidates.
When many businesses were laying off employees globally, even the best professionals were desperate to find jobs, and HRs of digitally enabled businesses found the opportunity and made better recruitments than they ever did before. Not shutting down business during lockdown, when some other businesses perished meant you have:
Less competition

Access to a larger client population

Higher revenue

A completely new level of productivity and efficiency

Better customer experience
These benefits and many more made leveraging digitalization essential for the survival of any business. Many large budget companies rushed and had a digital makeover as this was a do-or-die situation for businesses. However, SMEs were already struggling in keeping their business up and running, how can they budget for an upgrade? This is why the Malaysian Government stepped up and offered to help.
 How SME Digitalization Grant can Help Your Business?
Technology is improving constantly and keeping up with digitalization can be costly. The goal is to uplift and help SMEs to take advantage of digital technology and grow and expand in local as well as international markets. This is why the Government of Malaysia has seen great potential for economic growth in this sector of the country and decided to help fund the progress here.
The seven different digitalization sectors that are supported by SME Grant are:
Not every SME is qualified to receive the grant. The government has set up criteria and procedures to ensure that the money is going into the right hands. Read here what are the criteria and requirements for the Grant and How you can Claim it.
Similarly, not every service provider will be allowed to participate in the grants, only quality service providers are approved by the government. The Malaysian Government has shared a list of authorized digital service partners who have partnered for the SME Digitalization Grant. SMEs can avail the selective services of these businesses through the grant. Million Software has partnered with the Government to enable the digitalization of SMEs. You can pay 50% of the payable amount upfront, and apply for the grant using the invoice. If the approved government will pay the remaining amount of your invoice.